Wedding Gown Preservation
Preserve your wedding gown to keep it as clean and white as the day you wore it!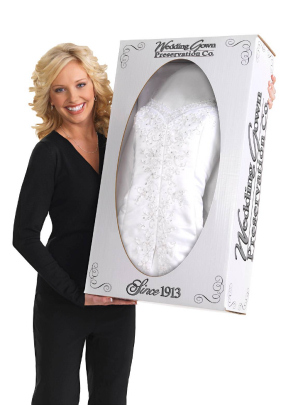 Professional Cleaning and Preservation
Each gown is professionally and thoroughly cleaned using the best process for your particular gown. All of the processes are safe, gentle and done by hand. We are able to remove at least 95% of stains. We can also handle most repairs for a nominal fee.
Display Chest
Your gown preservation includes the dress and three extra items, such as your veil or headpiece, gloves, garter, moneybag, handkerchief, etc. (Ask about including additional items if more than 3 are needed.)
Your wedding gown and other items are preserved in a dress preservation chest. You are able to see your gown and veil through the display window. Other items are positioned to visible in the window if possible, or under the gown. The chest is shipped to your home when the cleaning and preservation are complete.
100 Year Certificate of Guarantee!
Wedding preservation comes with a 100 Year Certificate of Guarantee against caramelized sugar stains or yellowing. If at any time your gown is found yellowing or having caramelized stains, the gown will be reprocessed at no additional cost! Wedding Gown Preservation has been trusted since 1913.